Related Articles is an interface for the dispersal of electronic works, which functions as a monthly broadcast, a record label and a club night - based in Tāmaki Makaurau, Aotearoa.

Tune in on the third Saturday of the month 19:00 NZST as AFM broadcasts the back catalogue of monthly Related Articles mixes, showcasing sound explorers from all corners of Aotearoa and abroad.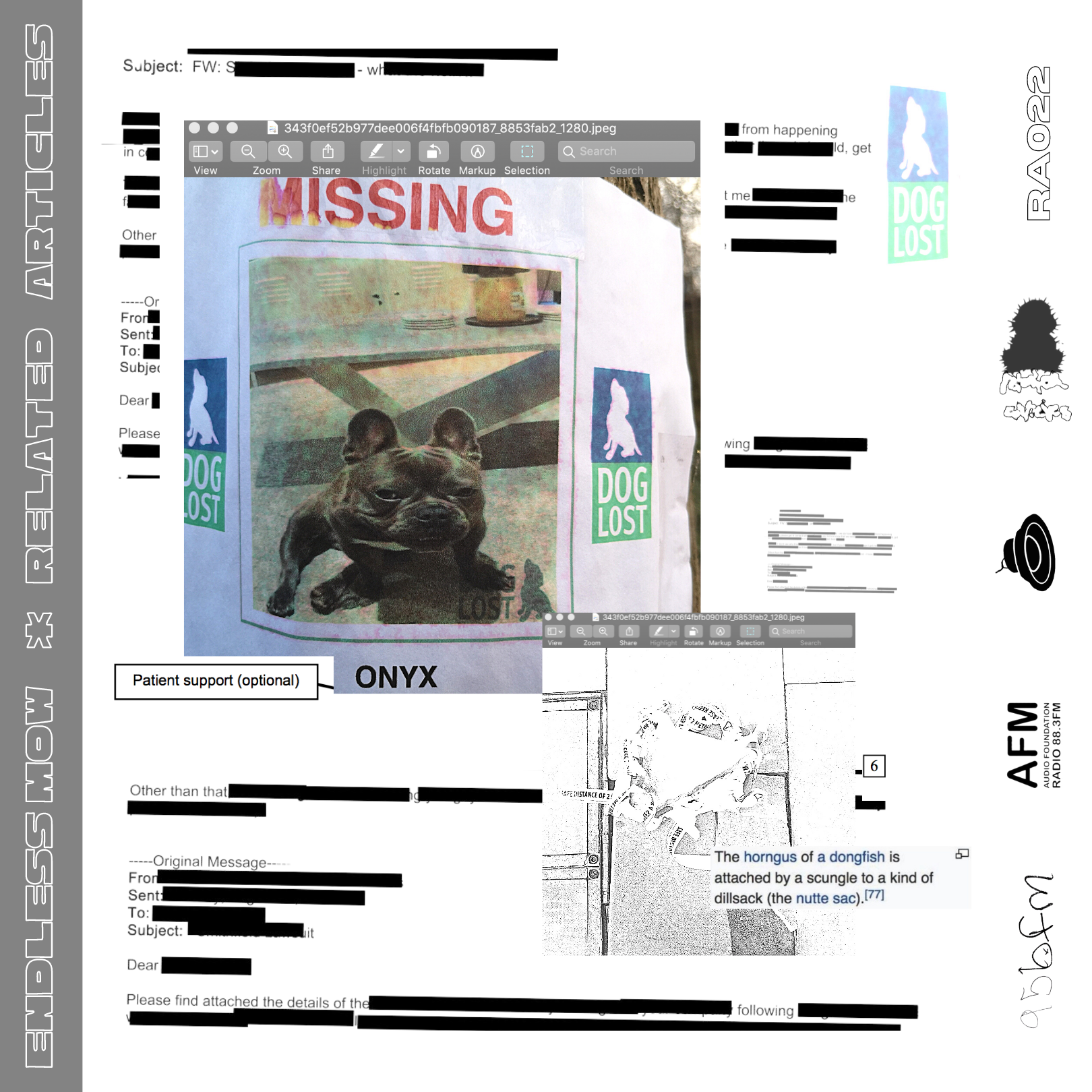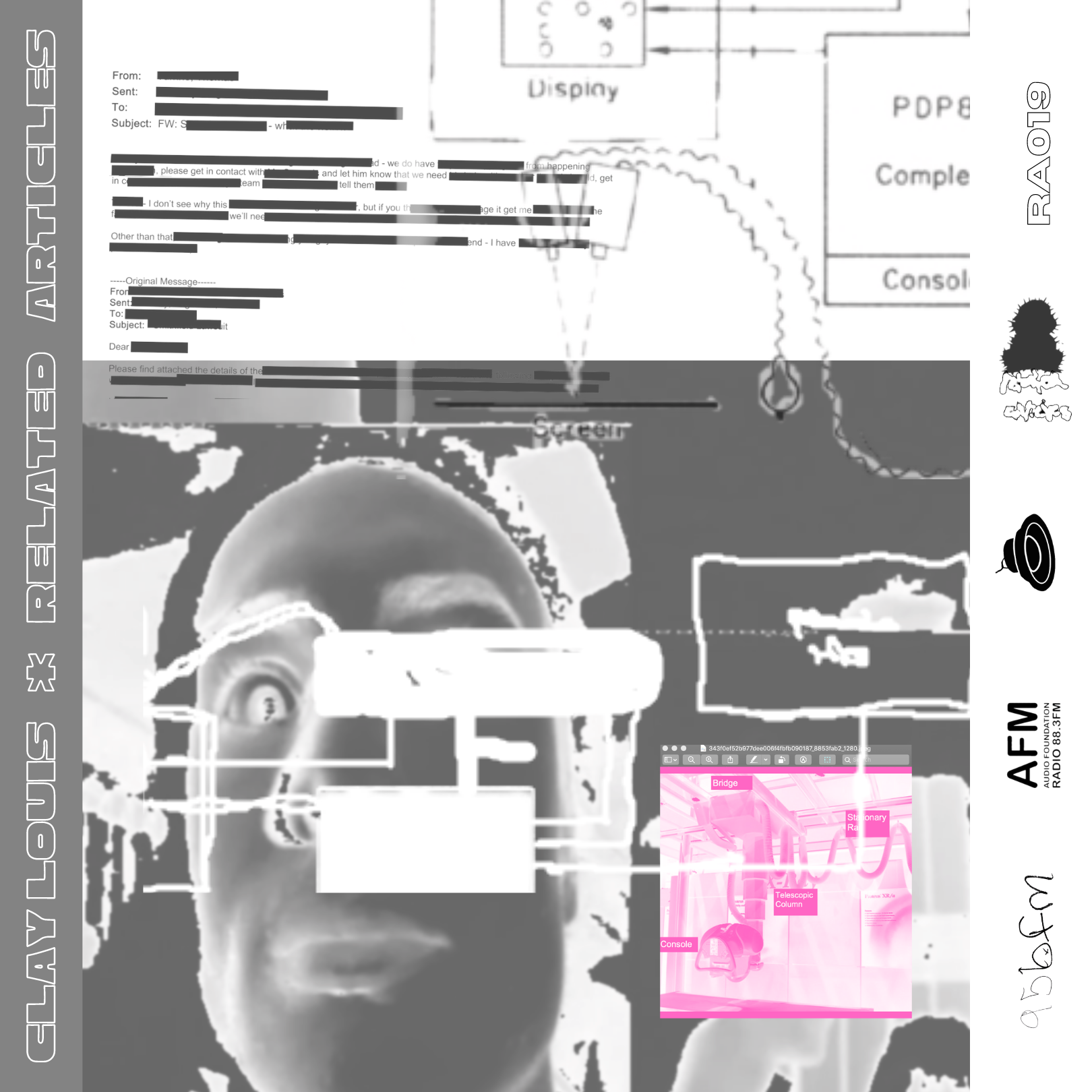 ---
PLAYLIST
---

RA MIX001 - GG Mothra - MOTHBABY mini mix

GG Mothra is an Auckland born electronic musician, currently based in Western Canada. Taking influence from the energetic rhythms of Chicago footwork, jungle and the 160 tag on soundcloud, GG Mothra creates hectic dance music for babies.

---

RA MIX002 - Sequentia - LOCU$ OF CONTROL mix

Sequentia (@sequentia666) is the solo moniker of Grace Verweij, an Auckland based musician and promoter. She is a facet of music projects 'lskse_' and 'Milk'. Grace runs Related Articles - an interface for the dispersal of electronic works, which functions as a monthly broadcast, a record label and a club night. In 2019 she co-established the bi-annual 3-day experimental music event 'Outlier Festival'.

---

RA MIX003 - Current Bias - Readers Digest mix

Current Bias (@currentbia5) is a Perth born Wellington based Sound Designer/Producer/DJ who creates and performs with emphasis for diversity and inclusivity in styles, tempo, and timbre within the world of electronic music.

---

RA MIX004 - DJ Gutta - Arthur's Secret mix

DJ Gutta (@leo-casey-waby) is a young kiwi DJ and music fanatic, he was born in Wellington and is now based in central Auckland.

Through internet trawling, record store excavation, endless listening and mind altered clubbing escapades, DJ Gutta finds himself magnetised to heavy dance music styles, he likes to play them loud and sometimes craft his own. He is part of the force behind AKL club nights Hard 'n' Fast Joints, Ultra Sound and States of Mind, and shares records on his weekly radio show; or wherever weird, funky sounds are welcomed.

---

RA MIX005 - Zozo - Eco Club mix

Zozo @zozo_no_doz is a wellington-based DJ/musician/event promoter. They've played club nights such as MESH, Ultrasound, Racquet Club and Vertigo, and hosted shows on Salient FM and RadioActive. Originally organising their own club nights under the CLUBHAUS name, they aim to create safer, more inclusive spaces for playful + hectic dance music. They've also produced a new track titled 'girlboss speedrun' as part of the first acoldplace label compilation, which was released on Friday.

---

RA MIX006 - Amamelia - Hardcore mix

@Amamelia is the musical project of Amelia Berry, a musician and songwriter currently based in Auckland.

Amamelia's music combines breaks normally found in Jungle & Drum & Bass with a sugary synthetic pop sensibility.

Outside of Amamelia, Amelia can be found creating ambient soundscapes in caves as Old Chips, playing in queerbo pop-punk band Babyteeth and performing as one half of synth pop duo Fimo. In the past she's been the mastermind behind the romantic jangle of Polyester (fka as Kip McGrath), and one third of queer DJ trio PWB. She is currently host of 95bFM's illustrious chart show, the 95bFM Top 10

---

RA MIX007 - Mongo Skato - BZP Only mix

Mongo Skato (@mongoskato) is Thomas E Richards, Poneke-based electronic artist and head honcho of Buzzy Point (@buzzypoint)

---

RA MIX008- BBYFACEKILLA - Sonic Seasoning

BBYFACEKILLA (@bbyfacekilla) otherwise known as Tina Kolose - is a Pasifika selector currently based in Tāmaki Makaurau.

Their handsome track selection includes anything from footwork to bass & booty. Bringing you freaky vibrations for spooky season.

Turn on some bbyface just for your ladies sake.

---

RA MIX009 - Jannah Quill - 75-Storey Skyline mix

Jannah Quill (@jannah-quill) is a Naarm/Melbourne based artist whose deconstructive exploration of electronic instruments and technologies manifests in electronic music production and experimental audio-visual performance and installation.
Quill modifies existing technologies (such as solar panels) into innovative light-to-audio systems, integrated with software/hardware experimentation and modular synthesis to carve a distinct voice in electronic music that fuses abrasive noise with labyrinthine melody and rhythm.
Her versatile practice has spanned through club, gallery, theatre and experimental art spaces, resulting in persistently unique performances which explore the social and sonic crossovers between each.

---

RA MIX010 - Skymning - All wax no breaks mix

@skymning is a Pōneke born musician, who has spent the last 4 years living in London and Melbourne. In addition to producing music influenced by these new metropolis backdrops, this time was spent digging deep into record stores, trawling discogs collections and establishing Bankrupt records.

Following recent releases via @thebigfreshcollective and @jukebouncewerk,
Skymning delivers an all-vinyl, high-energy fifty minute journey through footwork, jungle and juke.
This mix is dedicated to longtime friend/collaborator/bankrupt co-founder Totems.

---

RA MIX011 - Baby Zionov - Dance & Rhythm Action Mix

Baby Zionov (@babyzionov) is a Tāmaki Makaurau-based DJ and musician mashing together influences from the sugariest, sunniest, and most effervescent corners of the dance music world. In this mix, she digs deep into the source of her love for electronic music, playing exclusively music from video games.

---

RA MIX012 - King Softy - Clumps

@kingsofty is the alias of Amos Turner a New Zealand born, Berlin-based artist and graphic designer. A passion for music formed the backbone of many of Amos' creative projects which culminate as INDEX:Records, a record label Amos co-founded in 2017. As King Softy, Amos creates diverse sounds in the sphere of contemporary electronic music, moving swiftly between genres usually designed for larger sound systems, and supporting their emerging music community.

---

RA MIX013 - Native Bush

Native Bush (@pipianamata)(Ngāti Pikiao/Ngā Puhi) refuses to be perceived within linear bounds >>> instead see them as a creator drawing inspiration from the meetings of past, present and future. Through many facets and art forms they transcend bounds and binaries, rousing and familiarising the space between known and unknown.

Their collective work with Blood Mothers and SYSTEM OF A BROWN initiated and nurtured their trajectory of meditative revolt. As SYSTEM OF A BROWN they create space ; REFORM@ >>> a self-autonomous manifestation of contemporary club and oceanic expression.

---

RA MIX014 - Totems B2B Sequentia - Eternity Mix

In celebration of Reuben Winter's birthday, this month RA presents a special B2B in which a lost relic is unearthed ~ a Totems (@totems420) mix recorded in 2015, prefaced by a devotional mix by Sequentia (@sequentia666) featuring her favourite Totems tracks.

Reuben Winter (Waitaha/Kāi Tahu/Te Aupōuri/Te Rarawa/Ngāi Kurī) was a sound artist who created a multitude of stylistically disparate projects for over 10 years, he was well recognised for Totems, a project steeped in the subcultures of hip-hop and electronic music. He also performed under the alias' of milk, as well as performing as a member of NIISA, P.H.F., Caroles, Roidz, Stoned Titan, Kerosene Comic Book, and Bandicoot. Reuben's support and guidance was integral to the establishment of Related Articles and without him this label would not exist ღ

Sequentia is the solo moniker of Grace Verweij, Reuben's partner and founder of Related Articles.

∞ 𝑅𝐼𝒫 𝒯𝒪𝒯𝐸𝑀𝒮 ∞ 𝑅𝐸𝒮𝒯 𝐼𝒩 𝒫𝒪𝒲𝐸𝑅 𝐹𝒪𝑅 𝐸𝒯𝐸𝑅𝒩𝐼𝒯𝒴 ∞

---

RA MIX015 - Dylan Biscuit - Shorter Days Mix

Born in Te Tai Tokerau but brought up in mainland China, Dylan Biscuit (@fiddybag) has found sounds that influence him from all spectrums of his surroundings.
Living in Tamaki Makaurau for the last 5 years, Dylan has been heavily involved with the underground scene through labels such as The Grow Room and Heat Rockers Records. During this time Dylan has seen people connect with all different genres of music through very different mediums, these experiences are translated through his sets where he blends all of this collective knowledge and deliver's dancers with a familiar feeling translated through a new sound.

---

RA MIX016 - Peach Milk - Tribute Mix

With the release of 'Finally' in 2016 Peach Milk (@peach-milk) began as a live act with a focus on immersive, ethereal dance music. After a string of live hardware shows played throughout New Zealand, Peach Milk has since established herself as a DJ integral to the Aotearoa underground club scene. Her DJ sets display broad influences, ranging from the dreamy and relaxed areas of House music to driving, percussive Techno, Breaks and everything in between. Peach Milk is a project that continues to shift and transcend labels or mediums, with each set embodying a unique display of her talent in mixing a dynamic range of genres and styles.
This mix is dedicated Peach Milk's long-time friend Reuben Winter

"The Jungle is Massive" R.I.P Totems

---

RA MIX017 - Kédu - Frequency CNTRL

Kédu (@keduu), otherwise known as Jess Penson, is an undeniably pivotal artist currently based in Tamaki Makaurau. Kédu has explored many different facets of her musicality throughout the years, starting off in Rnb girl group Techniclr and later finding her way into electronic music as one half of producer, DJ, and live electronic performance duo Kédu Carlö. Influenced by her eclectic taste, Kédu's sound draws on genres such as Jazz and RnB as well as her love for Chicago/acid house, Left-field, Jersey Club and Breaks.

---

RA MIX018 - Ngaru - Whenua Mix

Tāmaki-based DJ ngaru (@nqaru) embraces sonic exploration in his sets. Unconstrained by genre and fluid in form, he navigates a vast field of energies and seemingly polarising emotional states, focusing on the contours of musical feeling. Melding restless percussion, glittery ambience and haunting vocal cuts, ngaru invites the listener into the space in between. He aims to create something unique while remaining grounded in a sometimes odd familiarity.

---

RA MIX019 - Clay Louis - cl_stepn_w1gglemx

With the inception of Hard 'n Fast Joints in 2018, Clay Louis (@clay_louis), alongside Leo CW formed the collective Eleventh Realm, focusing on bringing the heavier side of dance music to Tāmaki Makaurau. The pair went on to create Ultra Sound as their mainstay and most successful party series in Whammy Bar, transforming the space into an immersive dance experience through minimal lighting, industrial scrap-metal installations, and carefully selected line ups. Recently he has claimed a fortnightly Sunday show on Mouthfull radio 'Terra Incognita' which serves as an outlet for ambient, downtempo, and abstract finds more suited for at-home listening. At the club, Clay Louis' sets are high energy, spanning a unique array of driving techno, trance, breaks, and experimental club that can be heard reflected in his own productions - With an existing cache of self released productions, his forthcoming material showcases a range of influences tied together with a deep understanding of rhythm. Included in his mix for Related Articles is Clay Louis' most recent release, 'Visions Of A Friend', for Teethclippers' 'Don't Bite Your Tongue' compilation.

---

RA MIX020 - Hugo Jay - Refraction Mix

Hugo Jay (@o-h-j) is the moniker of Oliver Johnston, a producer and DJ based in Auckland, New Zealand. His releases on labels such as Coastal Haze, Hokkaido Dance Club & Lobster Theremin (as half of DJ Kush Boogie) portray an atmospheric, percussive, and shadowy side of dance music.

---

RA MIX021 - EYRA - Boca Bits Mix

EYRA (@eyra-dj) is the creative outlet for Ollie Pereira's leftfield-leaning, dancefloor focused productions and performances. Hailing from the UK, the Barcelona based artist's sound is rooted in bass heavy British music culture, however his style is forward thinking, adventurous and inventive throughout. With productions spanning a plethora of genres, emotive melody and meticulous rhythmic study are quickly becoming something of a signature aesthetic.

---

RA MIXO22 - Endless Mow - spectral Terra Mix

Endless Mow (@endless_mow) is a London-based DJ and producer. Mostly known for his releases on All Centre, Endless Mow can be found somewhere in between UKFunky, Bass and medieval folklore. Witchy vocal chops + subs.

---

RA MIX023 - Scarlett - Psychic Choice

As a member of Friendly Potential, Run With The Wolves and the ninthWave - Aotearoa's first ever feminist soundsystem, Scarlett (@scarlettlauren) is a verified rave weapon. She's thrown down her vibrant, bass-heavy sound at countless local parties, festivals & helms multiple radio shows that air across the country.

---

RA MIX024 - plkpnn - Future:Casting

@plkpnn misses transcendental clubbing with their friends. "this mix simulates my ideal dancefloor experiences: the ones where you spin yarns, your mates play beautiful tunes, and maybe you meet god". please enjoy at your own leisure.

---

RA MIX025 - Benny Salvador - Unrelated Fruits

Benny Salvador is a Wellington-based DJ producer & founder of Aunty Records. Benny's musically diverse sets are carefully curated for the night & the room, driven by his innate curiosity and a childhood surrounded by music.
Benny has pushed his sound, and exhilarated dance floors around New Zealand, with radio shows on Radioactive.fm and his club night 'Friends with Benefits', hosting international acts such as Courtesy (DK) and Gramrcy (UK). Benny's first vinyl release '3 Suns' was on New Zealand label Racquet Club in late 2019, followed by 3 releases through his own label Aunty Records - EPs 'Wat Shu' & 'Change of Depth', and recently his debut album, 'Family Fruit', in March 2022.

---

RA MIX 026 - laced - Squishy Mix

laced (@lacedetail) is a producer and DJ from Montreal, QC, drawing influence from UK bass, IDM, techno and breaks. In 2018, she released her first EP "Define This Mood" on Toronto label Summer Isle. In 2019, laced founded her label Causal Chain, releasing music from Montreal and beyond. In 2022, she released two EPs, "Caustic Reverie" on London label All Centre and "oko", on her own label.

---

RA MIX 027 - Jess Fu - Home

Jess Fu (@jessfu) is a Chinese-New Zealander DJ and broadcaster. She's clocked up many years as a radio DJ here in Aotearoa and overseas. Previously appearing on NTS, Half Moon , 95bFM, she currently has a residency on LA's Dublab with her show APEX (Asia Pacific Exports). She loves to throw it down on the dance floor but with this Related Articles' mix, she's taken a different turn. Jess tells her story of going back to China in 2018 through her mix, '家 Home', where chaos that settles down into something beautiful. It ends with a snippet of Jess's granddad 老爷 singing a song about a mother's love. With no ability to return to China, the mix is the one way for Jess to reminisce.

---

RA MIX 028 - BABETECH - Torotiti Mix

BABETECH (@babetechnology) is a Pōneke raised and based wahine who loves to kanikani and create. With whakapapa to the far north and east coast BABETECH expresses the strength of her iwi through her selections

BABETECH embodies an energetic and untamed sound. Stemming from club and soundsystem culture. In this mix you see BABETECH's love for dubstep, bass and footwork with a pocket full of RNB and soul.

Torotiti translates to itchy in Te Reo, this mix will have you itching for a kanikani.

You can also listen to BABETECH on Radioactive.fm 88.6 every Friday 4-7

---

RA MIX 029 - Uber Driver - To A Place I Love

@uuuuuber

Initially constructed as an ode to the recent heavy rains, upon reflection this mix ended up as a dedication to the duality of Pōneke.

At times it's great, energetic and filled with promise… at others it's boring, depressing, stagnant. While I hold eternal love for this city, I can't front like it's good all the time. This is my attempt to encapsulate those sometimes conflicting feelings toward Te Whanganui-a-Tara"

---

RA MIX 030 - Marcus Philippe - Endlessly Falling Mix

Marcus Philippe (@m_philippe) is DJ and producer from Tāmaki Makaurau, based currently in the UK. Marcus self released his debut EP last year, drawing on a definitive dub techno influence. This mix is a collection of the kind of tracks that have inspired Marcus' current studio work with a more precise and finely-tooled sonic palette.

---

RA MIX 031 - Atarangi - ME4ME Mix

Hailing from Tūhoe and Ngāti Kahungunu ki Wairoa and now based in Tāmaki Makaurau, Aotearoa, ATARANGI (@aaatarangi) has an energy that remains unmatched. They live in a constant state of growth; forever evolving into a force to be reckoned with.

ATARANGI possesses a sonic range that spans across multiple, eclectic genres. Known for their high-energy, reactive, never the same sets, they play Cupid; matchmaking sounds from techno, to jersey club, ballroom, breaks, and fast-paced percussive hard drum tracks; driving the listener down a path into the unknown. Pure liberation and euphoria is at the forefront of their mind.

They have opened for the likes of jamesjamesjames, KI/KI, Mirasia, and performed at iconic club nights across Aotearoa such as HAVEN, NYMPHO, TREMOR and LE FAG in Naarm/Melbourne.

This mix is a love letter from the club addressed to their younger self. Aimed at generating their first notions of gender and sexual euphoria, in this mix, titled 'ME4ME,' they explore different styles and genres, as well as specific tracks that have soundtracked crucial moments for them since they left home at the start of 2020.